Hot Fuzz (2007)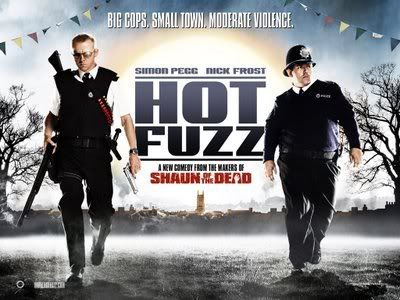 Directed by Edgar Wright. Starring Simon Pegg, Nick Frost, Jim Broadbent, Timothy Dalton.
Long story short: A top class London cop Sergeant Nicholas Angel is transfered to a little isolated town called Sandford - a multiple winner of the Village of the Year award. But he isn't going to just kick his heels in this seemingly peaceful town: he wants to look more closely on the so-called "accidents" that start occuring soon after his arrival.
I've previously seen Wright+Pegg+Frost working together on Shaun of the Dead, a hilarious zombie comedy. I love British humour and I love British accent and I love Britain, so I might be a bit biased, but this was a very funny film, too. I like Simon Pegg, and I'm sure he's a big hero to many British men: he's an avarage-looking Everyman who gets to kick ass on slow motion, shoot big guns, woo the ladies (not in this film, though, which is refreshing), drop around some funny one liners and then enjoy a beer at the end of the day. Actually, his character in Shaun of the Dead was named one of the "Icons of the decade" of Empire magazine, alongside Harry Potter, Aragorn, Kill Bill's Bride, James Bond, Heath Ledger's Joker and so on. Not bad at all, is it? Cheers to Simon Pegg!
And there's something very charming about Nick Frost, too, and his character, who admires and desperately tries to imitate his tough, straight-faced, officious partner. Jim Broadbent does a nice role as the town's Chief Inspector. And we get glances of many other familiar faces, too. Right in the beginning I had three "Oh, him!" moments in a row, when Martin Freeman, Steve Coogan and Bill Nighty walked in as Pegg's London collegues.
Stephen Merchant of The Extras also did a little role.
And apparently there were uncredited cameos by Cate Blanchett and Peter Jackson! I only spotted the first one, though I didn't think it really could be her, because that would be ridiculous, right? Haha. Very random, I must say, but cool anyway. And this is very, um, interesting: Elvis V is credited as 'The Swan'. He also has his own IMDb profile. Seriously. God.
I enjoyed Hot Fuzz. Didn't laugh my head off, but then again, I rarely do. It has some very clever and funny dialogue, some parodical cheesy one liners and some really authentic ass-kicking and comic book violence, which prevented the film from getting too far from its genre. If you enjoy British dark comedy, I can warmly recommend it. And i think Simon Pegg is my hero, too, just a little bit.
"Ever fired your gun in the air and yelled, 'Aaaaaaah?'"