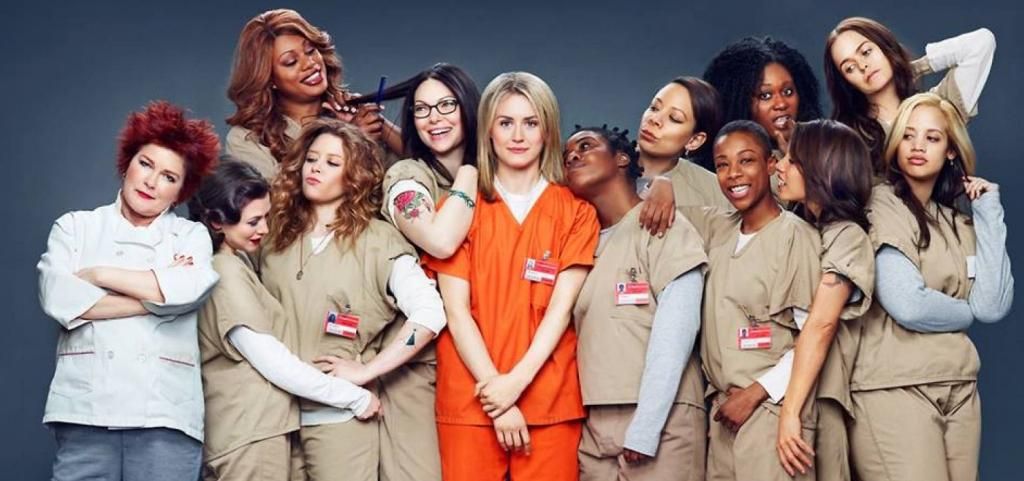 I needed an excuse to order Netflix again, and ta-dah, there was Orange Is the New Black. They were talking about it on the radio, and 'female prison' was pretty much all I needed to hear to know I'd love this show. I watched all thirteen episodes within days and I can't wait to get more next year. Sorry for the attempted prison slang in the title, by the way, I tried my best.
Piper Chapman is leading a cozy life in New York, with her adorable soon-to-be-husband, Larry, whom everyone will associate with American Pie, but that's okay with me, because I think I've never seen a full movie in that franchise. A relationship she had with a drug dealer a decade back sends her to prison. This educated, privileged woman being in prison is weird, creepy, and kind of funny. This show is no Prison Break, where the emphasis was on the action and building up the next cliffhanger. (They're not trying to break out, which means these gals have definitely seen the later seasons of Prison Break, and they know that no good comes out of leaving that fascinating, claustrophobic milieu behind. Not that I'm bitter. But I am. Still.)
Orange concentrates on the characters, their backstories (with very Lost-esque flashbacks that I very much enjoyed) and the dynamics. The tone is relatively light, and there are a lot of comedic elements, despite the grim premise of the show. So there's loads of relationship drama, but not the lame kind. And it's not all lesbian jealousy and verbal, interracial catfights. At times, it does get almost Prison Break suspenseful, and pretty damn dark. And ah, the characters.

Typically for me, I'm not overly fond of the main character trio (except for Larry, perhaps, because he's such a darling), but I adore the variety of supporting characters. There haven't been this many fantastic female characters in the same show since EVER! From intimidating Russian ladies and meth-head Jesus freaks to hot lesbian junkies and transgendered hairdressers, this show has it all, and they all come with enormous amounts of character and attitude, and of course loads of F-bombs. It's pretty fantastic. The men of the show are mostly just evil, or stupid, or both. (Except for Larry, darling Larry. And you know I can't resist a prison guard/inmate romance. Mmmh, forbidden love, bring it!) Perhaps the show does not really do justice to the male gender, but I figure they can take it, for once in their lives. This is the women's time to shine, and show their diversity, and break 96% of all the dumb female stereotypes we've gotten used to.

Hurray for female prisons! I can't wait for next year. Then I get to do more time. As they say in prison. I think. Here's a trailer.