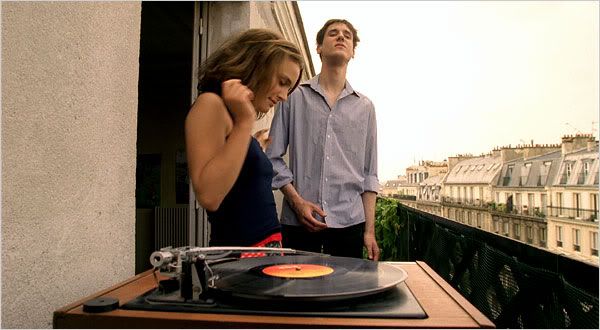 directed by Ethan & Joel Coen, Alfonso Cuarón, Gérald Depardieu, Gus Want Sant, etc etc... / starring Steve Buscemi, Juliette Binoche, Nick Nolte, Maggie Gyllenhaal, Natalie Portman, Elijah Wood, Emily Mortimer, etc etc...
My top 5 Paris movies
, #1
This had to be the number one Paris movie, of course. Nothing captures the different sides and moods of the city like these 18 short films, each one by a different director, each one set in a different part of the city, each one telling their own kind of a story of love. And Paris.
THE BEST:
Quais de Seine by Gurinder Chadha
. A young man is sitting with his idiot friends by the Seine. The friends are being really lame and trying to hit on ladies. He makes a wise choice and chooses the company of a Muslim girl he meets. I like their open-mindedness, and that the boy has guts to be different from his baboon friends. And the mosque (which I've visited!).
Tuileries by Joel and Ethan Coen
. An American tourist (played by the awesome Steve Buscemi) is sitting at the Tuileries metro station, and despite the warnings of his Paris guidebook he makes eye contact and tumbles in the middle of a young couple's argument. This is definitely the funniest section. Every guidebook of course has a translation of "What are you looking at, cunt-person?". Basic French... And the Mona Lisa cards and the little boy with his pea shooter. Haha. Poor Steve.
Parc Monceau by Alfonso Cuarón
. Shot in one continous shot, this film introduces a man (Nick Nolte) and a younger woman, who walk the streets of Paris one evening. We don't know what their relationship is or who the Gaspard they discuss is until the end. Nick Nolte is brilliant in it!
Quartier des Enfants Rouges by Olivier Assayas
. Maggie Gyllenhaal is an actress shooting a period film in Paris. She has a secret crush on a man who deals her drugs. It's quite sad, actually.
Place des fêtes by Oliver Schimtz
. Couple of minutes of romance between a Nigerian man, stabbed in the stomach, and a paramedic treating him. It's about love at first sight and a little about destiny, too. And about some violent idiots.
Pére-Lachaise by Wes Craven
. An arguing couple in a pre-wedding honeymoon refresh their love with a little help from Oscar Wilde. I really like this episode. And I like the story about his last words (they weren't "Bury me under something ugly", like the man suggests. He really is quite funny, no matter what she says). And I like both of the actors, too.
Faubourg Saint-Denis by Tom Tykwer
. A romance between a blind young man and a pretty actress, seen mostly in fastforward. It's really great, shot in a very interesting way. Natalie Portman is excellent and so is the actor playing her boyfriend.
Quertier Latin by Gérald Depardieu and Frédéric Auburtin
. An older couple has one more drink together before their divorce becomes official. It's real sweet, if only every divorce was handled in such a mature way. I love how they joke together and how they know each other so well and still respect each other and love, too, in a way. "Bitch." Depardieu is also in a small role.
14e arrondissement by Alexander Payne
. An American woman fullfills her long-term dream by travelling to Paris. She's learned French, and all. (Still, she's not totally fluent in it, which is great. I don't speak French, but it's still easy to hear her terrible accent.) But it's not so great she imagined it to be! She misses her dogs, feels lonely and eats hamburgers. Then she suddenly experienced a weird feeling, sitting in a park, eating a snack. She feels alive. The most memorable line of the film follows: "That was the moment I fell in love with Paris. And Paris fell in love with me." Aww. It ends the film, suitably so. As a wrap-up, we re-visit some of the people we met before. It's great, just great. Ah, l'amour. And ah, Paris.
... AND THE WORST:
Porte de Choisy by Christopher Doyle
. A freaky little film about a beauty salesman and some bitchy Chinese women. It's just really weird and I don't know what's supposed to be romantic about it.
Quartier de la Madeleine by Vincenzo Natali
. A young, lost tourist meets a vampire and they suck each other's blood. Okay, it's not really that bad, at least it's different from all the other episodes. We meet the couple again shortly in the end, and after seeing them high in a wild party it all makes much more sense. Oh, and I'll always have a soft spot fo that blue-eyed little man called Elijah Wood. Ah, he's just so pretty.
In summary,
Paris Je t'aime
is fantastic. Its New York counterpart is alright, too, but not like this one. And the series continues! Apparently threre are similar episode films on the way for Shanghai, Rio and Jerusalem. Me happy!