directed by Charles Chaplin / starring Charles Chaplin, Jackie Coogan, Edna Purviance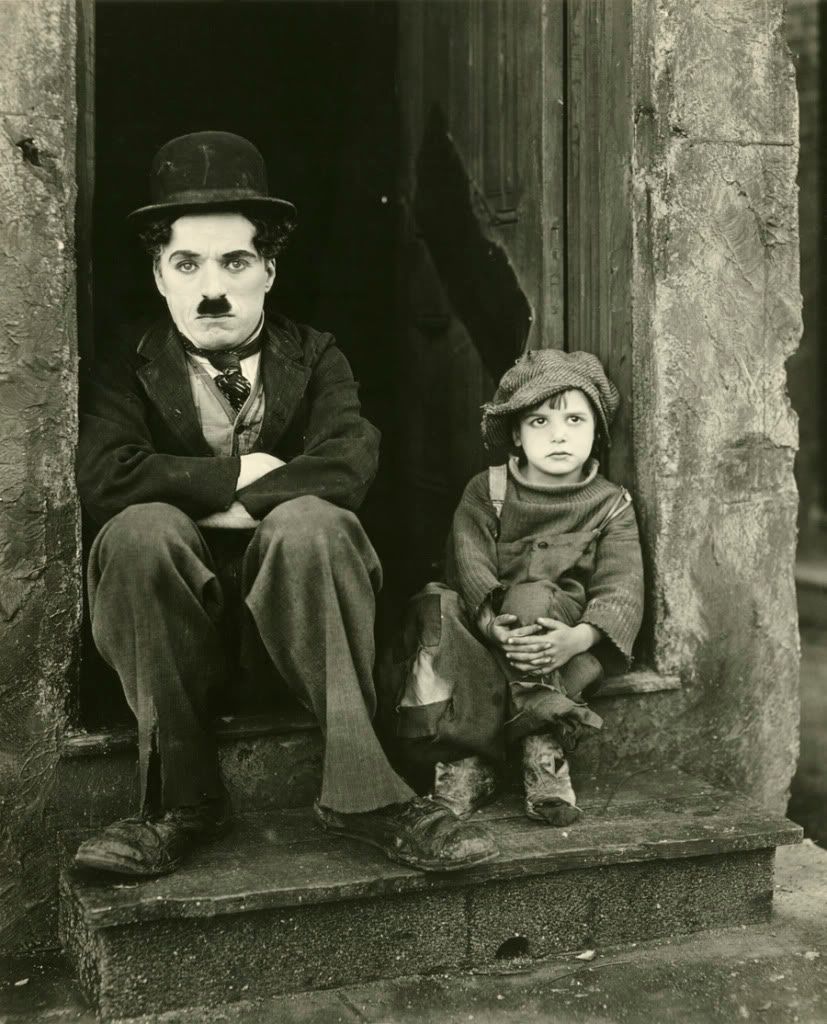 Yeah,
The Kid
wasn't Chaplin's 'first-born', per se, but it was the first one of his films I'd call a full-length film. It's only 50 minutes, but anyway! '6 reels of joy', according to a poster, and that's just what it is.
This time the Tramp ends up adopting a little orphan baby. He raises the kid to be pretty much like a mini version of himself, which is both sweet and hilarious. They make their living doing a bit shady stuff, but the Tramp is a loving father, doing his very best with the boy. Unfortunately there are people who want to take the Kid away from the Tramp.
Jackie Coogan, the kid playing the Kid, is just awesome, such a little charmer! He hasn't starred in anything big besides
The Kid
, and I don't know why. He's great in both comedic and dramatic acting. Edna Purviance plays the biological mom, forced to give up her baby. She was one of Chaplin's favourite co-stars in the silent era, and they remained friends all their lives. Which I think is sweet.
Needless to say, Chaplin was once again brilliant. I found myself grinning and almost lauhging out loud when the Tramp stumbled to the screen for the first time... This good old slapstick is just solid entertainment. In addition to being hugely funny,
The Kid
is moving and touching, in that guaranteed sincere Chaplin way. The scene in the end, where the Tramp and the Kid embrace each other and share that little kiss (something you today couldn't put in a film just like that) is so very beautiful, and would've made my eyes run, had I been in a bit more sensitive mood. Ah, another iconic Chaplin moment.
One thing I didn't love about the film was the dream sequence towards the end. The Tramp falls asleep and dreams about a heaven-ish land where everyone is happy and wears wings and flies around, until some devil-looking guys turn up and plant bad thoughts in people's heads. I felt it didn't quite fit there, and the film would've been just fine without that kind of symbolism and flying dogs. Anyway, here's an interesting piece of trivia about the sequence: Chaplin kisses the 12-year-old Lita Grey, who at the age of 16 would became pregnant and so they would get married (he was 35 at the time). And that lasted for 3 years, by the way. Quite a life, he had...
Despite an odd scene or two,
The Kid
is a wonderful film, and I loved it as much as I expected to. To prove my point, here is
my favourite scene
. I just love how those two work together.
Here's one more picture, this one's from the set of
The Kid
, with Charlie and Jackie. I think it's somehow really sweet.