Looks like watching every Disney animation ever made has sneakily become my rest of the summer's mission impossible. Well. Disneyland got me brainwashed real good, and what else can you do when you just don't feel like watching anything with real actors and proper plots and no happyhappy songs at all. So I sit down comfily and watch once-upon-a-times turn into happily-ever-afters over and over again. And it's just swell! This phase will change into something else eventually, but I'm in no hurry at all.
This punch of animations once again took me to different places, different eras, different cultures, and also planted me a need to travel to Hawaii and to China and to live like Indians, in total harmony with nature. These go straight to the bottom of my (very long) to-do list... Anyway.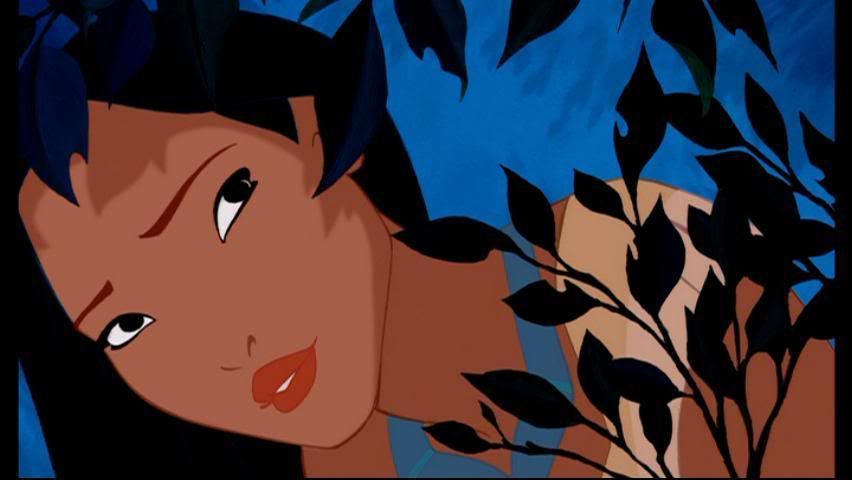 Pocahontas
(1995)
Okay. I know I say this about pretty much every Disney classic, but I love
Pocahontas
and it has to be one of my favourites. It's great that Disney made the true story about European savagery and that one unexpectable relationship into a movie - there was a bit of that good old Disney censorship involved, of course, but anyway. Pocahontas is my second favourite Disney princess (after Belle). She has that awesome wild child thing going on and oh, that gorgeous hair. John Smith ("You have a very unusual name, too!" Haha.) is kind of hot, and this time the animal friends didn't bother me, much. (That has to be like a norm in a Disney guidebook old Walt once wrote: 'Rule #87: At least one cute animal friend must be included. If there should be two of them, one is to be silly and the other slightly neurotic. They should fall down a lot and be hit by things.')
Anyway. The songs of
Pocahontas
are excellent, for once there's not one boring song! By the way, I watched this with a friend, and we came to talk about what actors we'd cast if a live action version was made (I mean not like
The New World
, but strictly version of the Disney film), and she said Thomas is just like Zac Efron. And yeah. Now I can't look at him without seeing Zac Efron. Oh well. I'd really like to see more of these stories made into live action films. I mean,
Alice in Wonderland
was pretty nice to watch! ... Okay, now I'm thinking Johnny Depp as Governor Radcliffe, and I'm not sure if I like the thought. Could be cool, though. Ummm, oh Mr Burton...?
"Do you think we'll meet some savages?"
"If we do, we shall be sure to give them a proper English greeting."
"Ooh, gift baskets!"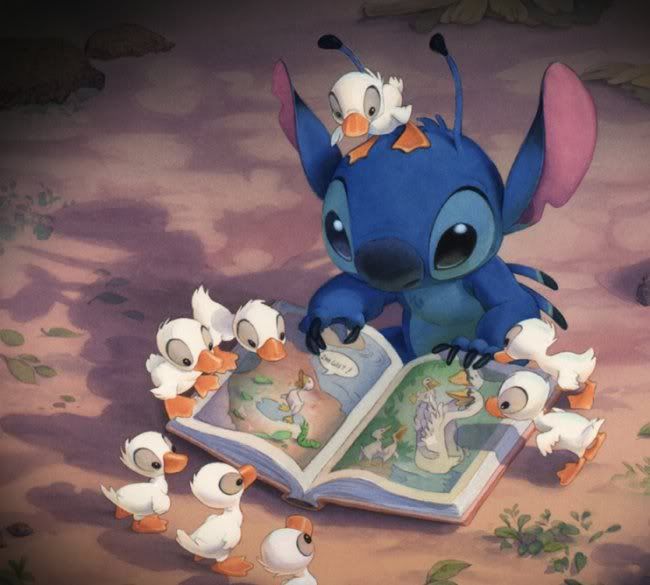 Lilo & Stitch (2002)
I used to watch this over and over again, maybe a time or two too many. It wasn't as funny as it used to be, but kind of sweet anyway. The ugly duckling and Ohana means family, and stuff. And how the aliens can't blow up the Earth, because there's an endangered species - mosquitos - living there. And Elvis is always a plus! And Hawaii, even animated, looks wooooonderful! Me wants to go so baaaad.
"He will be irresistibly drawn to large cities, where he will back up sewers, reverse street signs, and steal everyone's left shoe."
Mulan (1998)

Mulan is a cool movie. Disney princesses rarely get to kick ass, but Mulan doesn't let her prince have all the fun. She's no damsel in distress! She starts out as a clumsy misfit, unable to bring honour to her family, nor pride to her ancestors, and ends up as a hero of all of China. You go girl! In many ways Mulan is about love for family and your country, rather than romantic love, which is just refreshing. For me, the gratest comic relief isn't Mushu, the annoying little dragon, but Mulan's rocking grandmother ("Do you want to stay for dinner?" "Do you want to stay FOREVER?"). Oh and did I mention I want to travel to China, very bad? Well, I do. (I saw a Karate Kid making of on TV yesterday, and yeeeeees. China or Hawaii, which one first?)


"I'm gonna hit you so hard, it'll make your ancestors dizzy."