Just a week or two ago I leaped over to quite an unknown territory and tested my nerves with horror. Mikaela linked me
a post of hers
,
recommending some must-see flicks of the genre, and as Halloween was suitably just around the corner, I decided to continue the journey of exploration in the world of serial killers, masked murderers and creepy kids. To begin with, I noticed I actually wasn't so totally hopeless on the field after all, as I had already seen quite a few of the movies Mikaela mentions. However, there was, and still is, a lot to be seen. I was supposed to watch a lot more movies last week, but it was more hectic that I expected (and it doesn't really get easier for another week, sigh), so here are the fruit of my mini horror movie marathon. (I know the first one isn't horror, but since it has the word ' horror' on its title, it'll do.) The quest goes on after the surge of deadlines and other obligations passes by.
directed by Jim Sharman / starring Tim Curry, Susan Sharadon, Barry Bostwick, Richard O'Brien
I finally managed to watch this film, because they had a 'Rocky Horror Picture Show' themed episode on Glee and I wanted to get something out of it. I did get quite a lot out of it, something other than Time Warp, Dammit Janet and Toucha Toucha Touch Me stuck in my head all week, too. Cult films are quite difficult to get in, and I can't say I'm 'in it' after only one watch. This should be seen on stage, with the water pistols and toasts. But the music is catchy, and you can't blame the film for holding anything back or being ashamed of what it is. Two thumbs up for that, and next stop, West End! Finally, here's Glee doing the
Time Warp
again. Because Kurt is so freaking lovely as a balding creepy old man. (But I'm strongly anti-Quinn nowaways. Not that I'm bitter or anything, if you know what I mean...)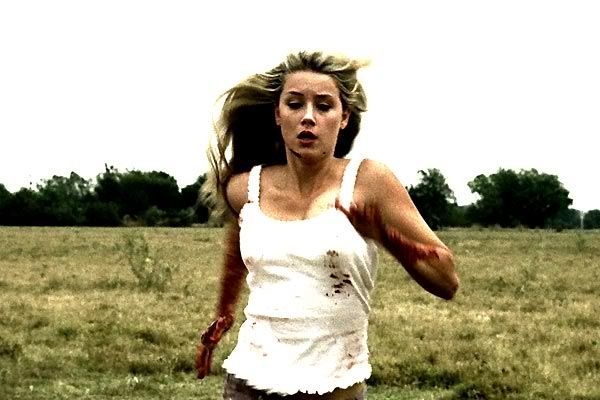 All the Boys Love Mandy Lane (2006)
directed by Jonathan Levine / starring Amber Heard, Anson Mount, Whitney Able, Michael Welch
This is the type of horror I usually go to. A bunch of teenager in somewhere secluded, and a mysterious someone killing them off one by one. No fear for nightmares here, because the biggest angst comes from not guessing who the killer is or guessing who it is too soon. Movies like this are usully quite entertaining, best served cold with a group of friends. All the Boys Love Mandy Lane is about Mandy Lane, a girl who turns into a hot babe during the summer and suddenly all the boys love her. The movie tag line says it quite well: 'Everyone is dying to be with her. Someone is killing for it.' Amber Heard sure is beautiful, and this the way I like horror the most: entertaining, harmless and forgettable.
Scream (1996)
directed by Wes Craven / starring Neve Campbell, Skeet Ulrich, Courtney Fox, David Arguette, Drew Barrymore
I'm almost ashamed to say that I had NEVER seen a
Scream
movie before. Pathetic, right? Oh well, after seeing it, I can't say I've missed that much. The killer, Ghostface or whatever, is somehow more amusing than scary, stumbling around and all. (Maybe the asscociations to
Scary Movie
also kind of hinder the wanted effect, haha. I just thought about the cloak dude hiding behind the couch, giggling...) And I still have disagreements about the killer's identity. I hate being wrong like this! Maybe some lonely boring night I'll watch the sequels, too, but I can't say they're very high on my list of priorities...
The Omen (1976)

directed by Richard Donner / starring Gregory Peck, Lee Remick, Harvey Stephens

To conclude my Halloween week, I raised the stakes and put on something REALLY scary. This is the kind of horror that has potential to give you sleepless nights... A cute little kid as the reincarnated Satan... Um, hello, quite cheery. The film didn't give me a lot of frights while watching, but afterwards that eerie mood just didn't go away, not even with aid from an episode of Big Brother. Hrrr. Anyway, the kid wasn't scary in the way the kids are in modern horror movies. It almost felt that the actor wasn't acting at all, like when he smiled, I saw, on my mind's eye, someone waving a lollipop or making a funny face behind the camera to make the kid smile. And actually that was quite creepy. Like, he just happens to be the reincarnation of all evil, but the doesn't really care, shit happens, let others deal with it. If you know what I mean.