In Bruges (2008)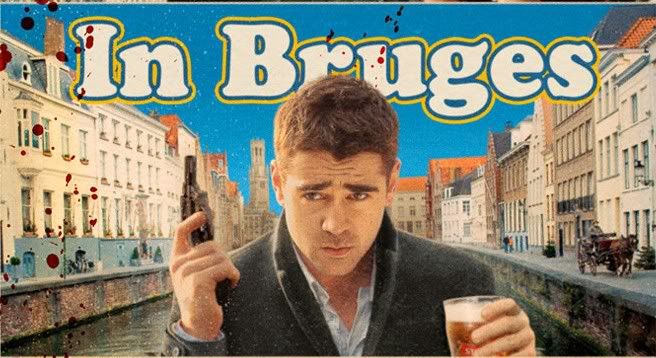 Directed by Martin McDonagh. Starring Colin Farrell, Brendan Gleeson, Ralph Fiennes, Clémence Poésy.
Long story short: Ray fucks up his first job as a hitman and he and his collegue Ken are sent off to Bruges, Belgium, where they try to get over the incident and do some sightseeing on the side, too.
SPOILER ALERT!
If you haven't seen the film yet, go see it now and then come back. I'm not going to hold back the delicious details this time. You've been warned.
+ F word allert! I'm not going to hold back the F word, either, because - thanks IMDb - 'the word 'fuck' and its derivatives are said 126 times in this 107-minute film, an average of 1.18 'fucks' per minute'. And that's a lot of F words. So it's only appropriate to follow their fucking lead in this fucking post, so I apologize in advance!
When I saw
In Bruges
for the first time, I was totally taken by surprise. I expected something very different, partly because of the HORRIBLE Finnish title ('
Kukkoilijat
'? Seriously? Who the fuck came up with that? They aren't fucking peacocks! ... Hmm. Pea...cocks. Kukko... cock... Maybe there's something to it after all. I've never thought about it that way before. Could that really be the point of the translation, or a part of the point...? I really don't know. Hmm. Interesting. My world just illuminated a bit. Maybe for nothing, but anyway...). Anyway! Where was I? I mean where the fuck was I? I'll try to break an unofficial F word record here.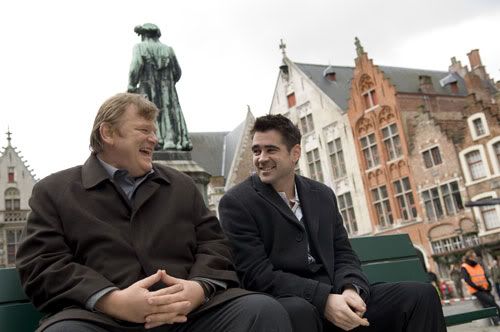 The cast, the dialogue and the setting are the driving forces behind this film. Colin Farrell is
freaking
fucking brilliant as Ray, who hates Bruges and doesn't give a
damn
fuck about sightseeing and just wants to get back to London - and at the same time tries to process the fact that he killed a little boy, which is something he can never take back. He 'will always have killed that little boy'. Farrell's performance in
In Bruges
is his best of all, in my opinion. Ray is a whiny brat, but so awesome anyway. (And the little boy and his list of things he prays to be forgiven for: 1. Being moody 2. Being bad at math 3. Being sad. Oh no... Heartbreak alert!)
Hmm. I haven't said fuck in a while. Fuck. There's something very warm about Gleeson's Ken, a badass hitman or not. He's wonderfully fatherly towards Ray, even though most of the time they just piss each other off. They are a splendid twosome, very entertaining to watch. I also LOVE Ralph Fiennes's Harry, I don't know what it is, but he's hilarious and intimidating at the same time. '
You're an inanimate fucking object!
' And his phone call to Ken, asking whether Ray is having a wee or poo and how's a fairytale town not somebody's fucking thing. And this scene below.
Ray's love intrest is a charmingly quirky small-time drug-dealer Cloë, played by Fleur Delacour. The actress's name is too difficult to spel with all the ´ thingys. There're three Harry Potter actors in this film, which isn't that surprising, because pretty much every British actor has been in a Potter film. Except for Hugh Grant. And I think he was in the talks to play what's-his-name, the pompous dude in
The Chamber of Secrets
... Lockhart, right! ... And why am I talking about Harry Potter? Clémence Poésy (there, I did it anyway) is well cast. She's not traditionally beautiful, and quite perfect for this film.
Looks like it's getting late again, as my mind starts wondering a bit too far away, for a change... The dialogue of the film is quite genious. I love it for being so non-PC and for insulting pretty much every single breathing thing on Earth. An example. (I had a hard time choosing just one scene.)
Ray: Why didn't you wave hello to me today when I waved hello to you today?
Jimmy: I was on a very strong horse tranquilizer today; Wasn't waving hello to anybody. Except... maybe to a horse.
Ray: Huh? What are you talking about?
Jimmy: Just horseshit.
Ray: You from America?
Jimmy: Yeah. Don't hold it against me.
Ray: Well, that's for me to decide, isn't it?
Ray: [
to Denise
]
You from America too?
Denise: No, I'm from Amsterdam.
Ray: Amsterdam! Amsterdam's just a lot of bloody prostitutes, isn't it?
Denise: Yes, that's why I came to Bruges. Been trying to get a better price for my pussy here.
Ray: Huh?
Ray: You two are weird. Would you like some cocaine?
And then Ken appears behind Ray looking like he's full of cocaine, which he is. Haha. Great. I restrain myself from adding another piece of dialogue. I won't fucking do it.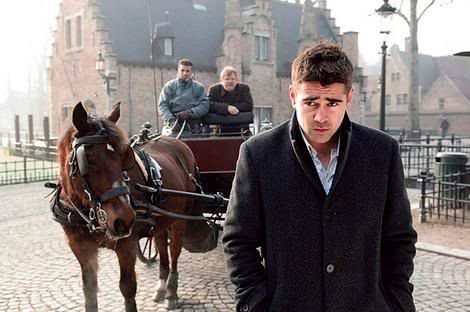 Bruges really is like a fairytale town. I want to go there. And it looks so different during night and day, which works really well in this film... from an idyllic tourist destination to an alien, dream-like world. And ah, the alcoves.
Like I said in the beginning,
In Bruges
is a surprising film. It's a comedy, yes, but a black comedy. Very, VERY black. I'm talking pitch-black. First it makes you laugh (and most of the time you are not sure if it's okay to laugh at the things you're laughing at), then it shocks you a bit, then it makes you sad, and right after the saddest moment it makes you laugh again. In the end you probably don't know what hit you. I didn't.
Yes, the ending. Personally I love it, how it's left so open and you get to decide Ray's fate yourself. The first time I saw the film I decided that he died. But now I think he lives. Someone has to live, because pretty much everyone else dies! Luckily Marie, the hotel owner, survived. She's cool. The last lines are so so good. First Ray talks about the little boy and promises to atone for his sins if he lives, then he insults Bruges once again and finally: '
And I really really hoped I wouldn't die. I really really hoped I wouldn't die
.' Yes. Perfect. Please live.
This post is too much praise and too little sensible argumentation, but that's just how it is when I talk about my favourite films. And
In Bruges
is one of those. (On second thought, my posts are always like that. Hmh.)
(I forgot I was supposed to say fuck all the time. Damn! I mean fuck.)
"What's a fifty year old lollipop man doing, knowing fucking Karate? What was he, a Chinese lollipop man?"