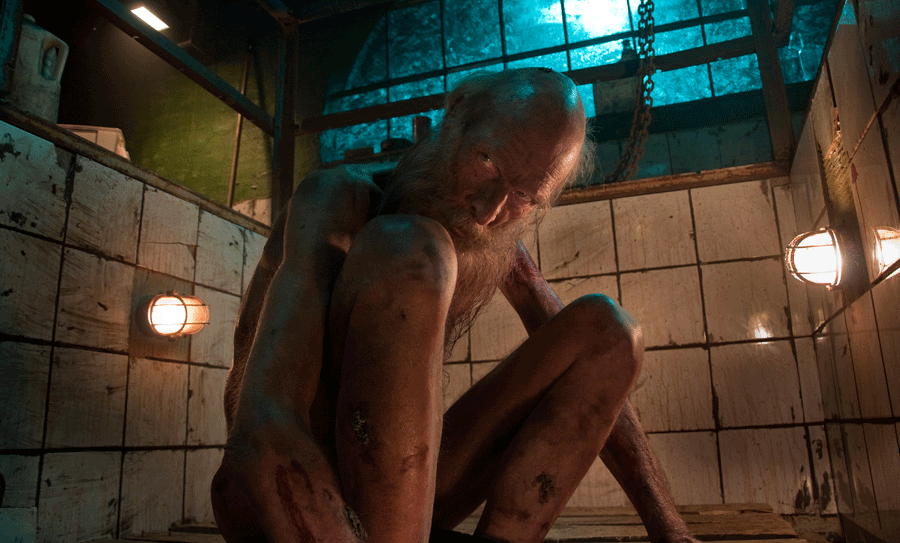 directed by Jalmari Helander / starring Jorma Tommila, Onni Tommila, Tommi Korpela, Peeter Jakobi
Sometimes some stupid external factors nearly ruin your cinema experience... On Saturday last week I left home with my brother at 6 PM for the 6:30 showing of Rare Exports. That was a bit later that I usually leave for cinema, but I had a 'clever' plan for parking, plus I didn't think people in my town would go see a film in a Saturday night (how did I come to this ingenious conclusion, I don't really know), so I was in no rush. I parked the car in the block next to the one where the cinema is, feeling real proud for finding a peaceful place to park, whereas other people would be pulling their hair out trying to find a free spot for their cars closer to the cinema (they're now building an apartment building where there used to be a parking lot for the cinema, thanks guys...).
It was really cold, but by foot the cinema was only a few hundred metres away... Only now the constuction site had blocked the way I was planning to use. So we went round it. And my clever parking plan didn't seem so clever anymore. Even less when we saw all the free parking space right next to the cinema. It was about 6:20 when we finally got there and bought the tickets and entered the auditorium, which was full of people to my surprise (where did they park, seriously?). And they were already showing the trailers! I swear, every time I arrive to a cinema too early (which is pretty much every time exluding that day) I'm hoping they'd start showing them earlier, but they never do! Today they did, and I was pissed off because I didn't know what I'd missed, plus I'm always annoyed when people arrive after lights have gone out, and now I was one of them. I tried to ignore the fact that there was a top of a head between my eyes and the screen and the trailers I saw were annoying and seemed so stupid that I almost felt like storming out as a protest for the lousiness of contemporary cinema.
But luckily the film did what films often do and I forgot I was pissed off. And okay, contemporary cinema isn't that lousy. (Though that
Burlesque
movie can be nothing but that. Even if it has Stanley Tucci in it.)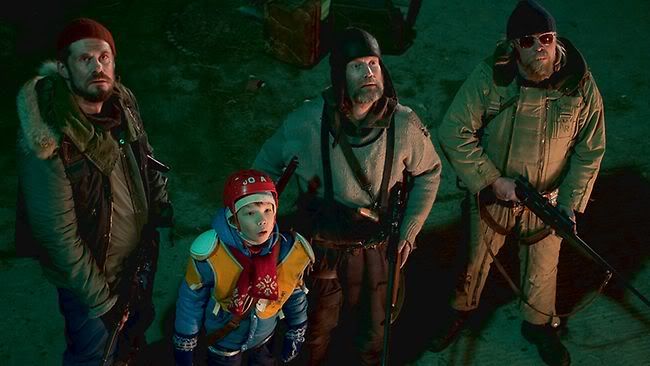 Why won't I gradually approach the topic after the brief and informative introduction... Though I don't really know what to write about the movie! It's now been over a week since I saw it, and whatever clever thoughts (haha, right) I had about it are now pretty much gone. I do remember that I was struck by an insane craving for gingerbread, and that I spend a good while wondering why people in Finnish movies hang outside in the middle of the winter with no scarf or hat and with their sleeves rolled up. Aren't they pretty damn cold? Speaking of cold, I felt sorry for one or two of those naked old men prancing around in the wintery forrest. I hope they were paid well, the poor things.
Right, I'm still quite skillfully avoiding the topic... Well, I've read many good reviews of the film, and I don't really have much to add. I guess I could at least say that I liked
Rare Exports
, because that hasn't really come out clearly yet. I'm quite proud that a group of Finns managed to make a film so original and interesting, with a certain appeal for international audiences, but still unarguably Finnish and not trying to imitate Hollywood productions. I think we just scored! Now it's only about 4519-1 to Sweden. Haha. Go Suomi!
P.S. Just watched the short films, I hadn't seen them before. Pretty awesome, I must say! Not something to lift up your Christmas spirits, particularly, but anyway. I feel like looking deeper to the myth of Santa Claus, I wonder if there are any good books about that... One more thing to add to my Christmas break to do-list (as if it wasn't crowded enough before).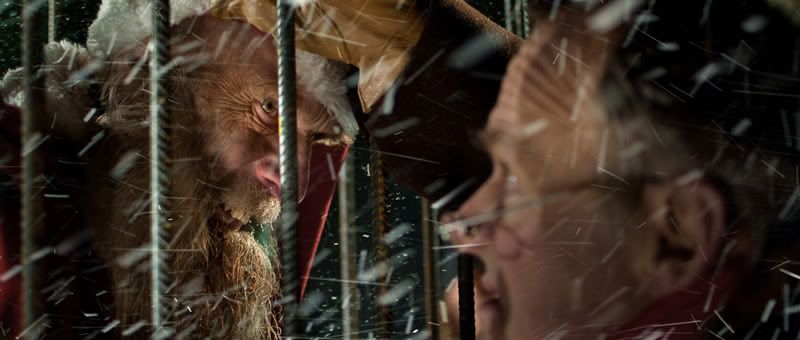 "Rare Exports... from the land of the original Santa Claus."
(YES! I hope everyone learns now that Santa comes from Finland, not from the damn North Pole.)