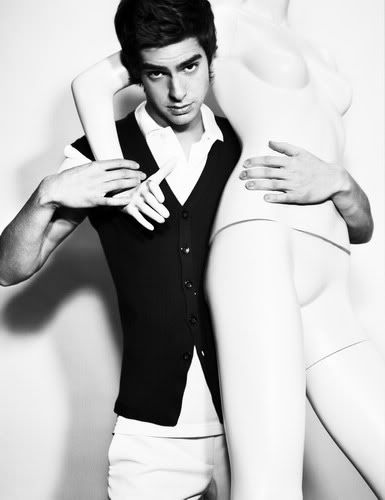 ... Andrew Garfield!
It's official
. Andrew will play the new Spider-Man/Peter Parker.
A few days ago I made
a cons & pros list
of each Spidey candidate. Andrew's only cons were that he should use his talent to maybe do something a bit more, er, you know, dramatic, or whatever, and that because I associate him with
Boy A
, I might start crying during a Spidey film. BUT he was in my Top 3 so I'm very pleased.
I'm sure he'll make a wonderfully sweet and sympathetic Peter Parker and a surprisingly authentic Spider-Man. And it's about time the world gets to know him better. He sure has some serious talent. So the film better be good. You don't get to ruin his career.
So... Who will be the next Kirsten Dunst aka Mary Jane? I'm not really the one to speculate. But these are exciting time were living! I hope they get the film done quickly, these news kind of fed my interest towards this project...
(LEFT: Born to be a superhero? He sure knows how to handle a damsel in distress.)