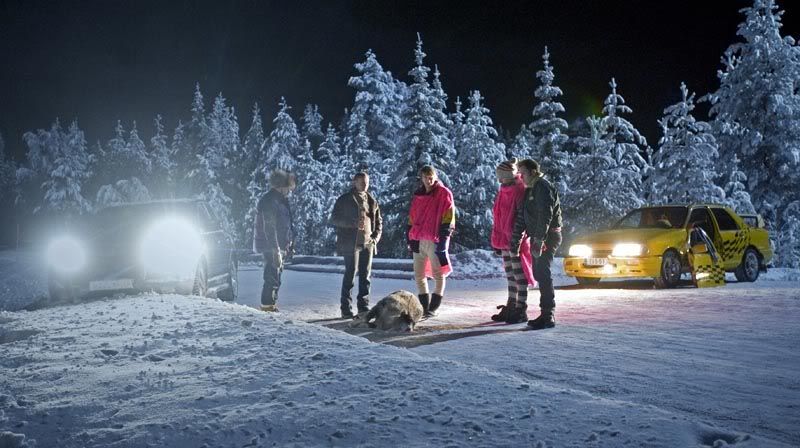 directed by Dome Karukoski / starring Jussi Vatanen, Jasper Pääkkönen, Pamela Tola
I thought about writing this post in Finnish, just because it'll probably feel a bit silly writing about such a 'Finnish-y' movie in English, but I'll give it a try and switch languages when it starts to feel too unnatural.
Napapiirin sankarit, or Lapland Odyssey, is a road trip film set in wintery Lapland. It's about a guy, who has one night to buy a digibox, or his girlfriend breaks up with him. Might sound like a piece of cake, but he lives in the middle of nowhere and there are a few, hmm, variables along the way. The journey down the icy, isolated roads of Nothern Finland contains a lot of snow, beer, reindeer, new accuintances from the neighbouring countries, cops, karaoke, bar fights and pink car seat covers.
Us Finns are peculiar people. Just recently Finland was announced 'the best country in the world' by Newsweeks. Most contries would probably take an announcement like that with pride and with a "Duh? Hell yeah we are the best" attitude. But the Kalles and Maijas and Liisas and Pekkas of our dear motherland just sneer and roll their eyes and make a sarcastic comment about a calculation error. And yet somewhere deep inside they still feel a touch of pride and maybe next time in the Canaries, when asked where they're from, they might actually look the questioner in the eye while answering.
Napapiirin sankarit is quite a funny and apposite potrayal of that unique Finnish mentality and view of life. Especially that 5-minute introduction is brilliant, summarising the nation's trademark melancholy and making it unexpectedly funny, too. I got a real kick out of that slowmotion 5-6 goal, too. (Some people might mug me for saying that, haha. Sorry, not a big hockey enthusiast... For me, 1995 is just another year. Sure, I was in pre-school at the time, but anyway...) I also liked the scene with Jasper Pääkkönen and the Russian guy in the tub. And got to admit, the wintery Lapland is really quite beautiful.
I don't watch a lot Finnish films. I think Napapiirin sankarit was actually the first movie since Menolippu Mombasaan (One-Way Ticket to Mombasa, still remains my favourite Finnish movie. Legendaarinen Suomi-iskelmä on mun heikkous!) that I saw in cinema. They just rarely interest me enough... Though I'm sure there'd be some real gems there if I just bothered to look. Napapiirit sankarit turned out to be a pleasant surprise, for one. (It's also presented in the Toronto film festival. Which is cool... but can a non-Finnish person, unfamiliar with Finland and Finnish-ness, fully understand it with all that culture-related stuff? I really doubt it.)
There, managed to do it in English, after all. I'd also like to take this opportunity to ask what are your favourite Finnish films? I'm ready to reshape my opinion about domestic cinema!

And now all together: ON MEILLÄ STEREOT, TELEVISIO, MIKROAALTOUUNI...

edit // Whoops, I lied. I did see Joulutarina in cinama. Guess I'm subconciously trying to forget the whole experience, haha...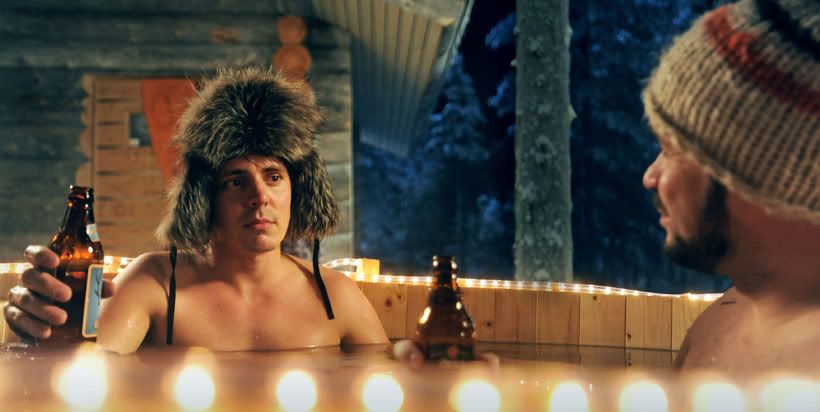 "Se kittuu, tapa se!"
"Miten?"
"Töki sitä!"