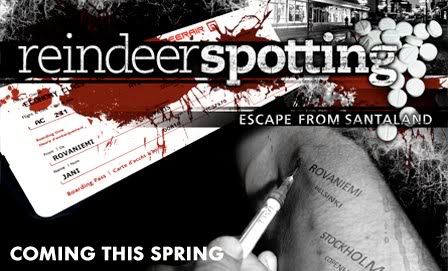 I've been sitting here for ten minutes now, this window open, waiting for me to write about the documentary I just saw, but I didn't know how to begin. Reindeerspotting left me feeling very empty.
Reindeerspotting is about Jani, a young drug addict living in Rovaniemi, Northern Finland, in 2003. The footage is all shot by Jani's friend, describing Jani's everyday life, controlled greatly by drugs, of course, either taking them or worrying about getting the next fix. With a prison sentence approaching, Jani finally decides to carry out his life-long dream - he escapes from Finland and heads to Paris.
Reindeerspotting is sad, upsetting, disturbing, horrifying. It shows in a blunt way what is it like to be a junkie. I had to look away several times - they show people shooting up in their arms very closely, and it's not very pretty. Also, they quite explicitly show and explain how to use Subutex or other drugs. Which would be very wrong if the film didn't give out such a strong anti-drug message. It shows the inhumane life the addicts lead. Drugs are always present - if they're not on them, they talk about them. Only times Jani actually looks happy is when he has a great pile of drugs in front of him, waiting to be used. But we know it's not real happiness. His life is empty, miserable, dangerous, stuck.
And yet he has dreams. He talks about them very sincerely, how he one day wishes to have a small house and a wife and kids. Humble, simple dreams, but many of those in similar situations never come close to achieving them. He also tells how he much he loves his family, though apparently they are not in touch. These parts were definitely the most powerful ones. Saddest, too.
The film is very subtle, plain, bald. There's no dramatic music, no huge climaxes. It's plain reality shown in the least theatrical way possible. We just follow this one person's life for a while. In the end they only tell us that afterwards he got stuck in a circle, going in and out of prison, but we don't know how he ends up.
... Only we do. It was just recently reported that Jani died in Cambodia a few months ago. I don't know if he was ever able to kick drugs, but knowing he didn't live to be thirty makes Reindeerspotting even more upsetting. Did he ever come even close to his dream about the house and the family? I don't know, but I'd like to. Though I have a feeling the truth would make the story of Jani even sadder than it already is.