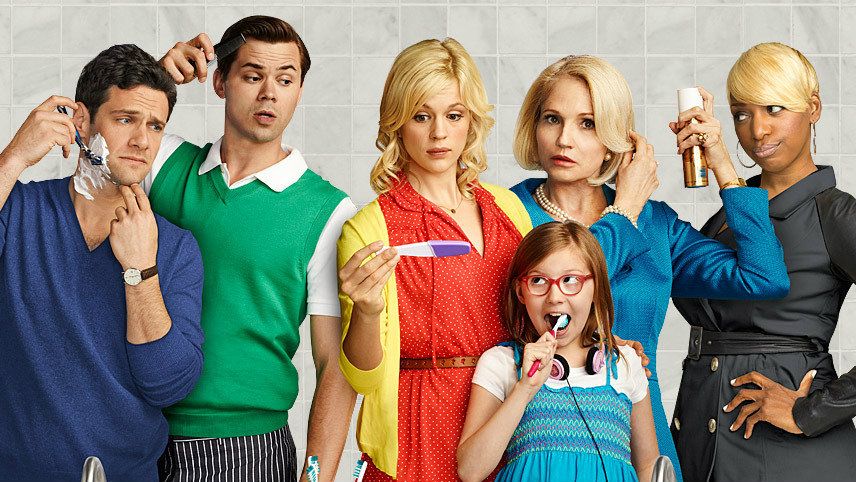 "I want us to have baby clothes. And a baby to wear them."
I don't know if I really like Ryan Murphy. Perhaps he is not the easiest person to like. But I guess I have to admit the man is a genius on some level. I mean, he once created that show which I kind of liked for a while, I don't remember what it's called, I think it's a four-letter word starting with a G, meaning joy and cheerfulness, or something.
...You have just read my spectacular introduction to my post about The New Normal, a new-ish sitcom by Ryan Murphy, the man behind Nip/Tuck, American Horror Story and Glee. It tells about David and Bryan, who have a really lovely relationship, but what they are missing is a baby. They find Goldie to be their surrogate, and with her they also get her 9-year old, precocious, eccentric daughter Shania, and her conservative, brutally offensive, and confusingly young grandmother. Together they make a family that ten years ago would've been really strange and groundbreaking and original, but now, with Modern Family and all that, we are just looking at quite a stereotypical 2013 sitcom family. Like, normal. I'm not sure if this what they were going for with the title, but anyways.
I hadn't watched The New Normal until today. I'd thought I should and would, partly because it's a Ryan Murphy show, and me and Ryan Murphy shows share a nice history (Except for Nip/Tuck. And American Horror Story. Hmm. Anyway!), but mostly because I loved Justin Bartha in
National Treasure
, more than I love American history. The New Normal just won the People's Choice Award for Best New TV Comedy, actually! I guess I could say that's why I was inspired to watch the first episode, but no, I only just noticed it won. Earlier I just noticed that
The Hunger Games
and the lovably dorky Jennifer Lawrence won a lot (P.S. I love you,
first photos from Catching Fire
!), and that RDJ always gives the best, sexiest acceptance speeches, and that Chris Colfer also won and said he finds it flattering when people exploit him in their fanfiction, which I thought was both a hilarious and extremely dangerous thing to say. Anyway! I should get some award for rambling. These posts are getting more and more out of hand...
After watching the first episode (for a random reason I guess we'll never know), I watched the second episode, and then the third, and continued until I'd watched all the episodes that have come out so far. Don't freak out, there's only been twelve, and the episodes are sitcom short. The show is nothing new, really, or utterly genius like Glee, but it's fun and I really like the characters (although some more than others).
And it's a bit like Glee, to be honest: First, what's up with RM and Ohio? Also, there are at least three actors in the show that have also guest-starred on Glee. And character similarities... The Nana character is offensive and fires her absurd opinions and insults at everyone's faces, but there is reason and heart underneath her plain-colored tracksuits, um, I mean jacket suits. Bryan and David are more or less what we could imagine Kurt and Blaine to be, fifteen years after high school. I mean, you easily could've had Darren Criss play the college-graduate David in those flashbacks, with the big curly hair and dorky/cool glasses. Just add a bow-tie. Well. Don't you worry, Kurt and Blaine! When you grow up you can leave that dreadful place also known as Fox, and move to NBC, and then you can kiss more, like normal couples! (I'm not complaining, of course. No one hugs like Klaine!)
Ryan Murphy has often said Kurt is based on himself in high school. Now, I don't have to read any interviews to know who Bryan is based on. Come on, who is that name fooling? To rub it on our faces even more, (B)ryan runs a popular TV show called Sing, starring a lot of young people like a kid in a wheelchair who isn't actually in a wheelchair and who wears weird pullovers, and someone I'm pretty sure he called Lea before naming her his favorite. And then once he decided to break up a fan favorite couple on the show so that teenagers would cry for months. Touche. I might be past teenage, but dang it, the sun hasn't shone quite as bright since the damnable day Klaine broke up.
I feel like I've done nothing in this post but talked about Glee and mocked The New Normal itself. It's not news that I like talking about Glee. Like it's not news that there are similarities in these two shows (I mean, I'm pretty sure some of those lines about daring to dream and being proud of who you are were actually quoted word-to-word from Glee). Like it's not news that Ryan Murphy is most inspired by Ryan Murphy (which is not necessarily a bad thing, I mean, who am I to judge, having once again spent another day watching a show of his). Like it's not news that I don't know where I'm heading to with this paragraph. I think I was trying to make a transition to talk about my favorite characters.
I love Justin Bartha in this show as much as I loved him in National Treasure. He single-handedly saved that movie from Nicholas Cage, like he almost saved National Treasure: Book of Secrets from yet another Nicholas Cage. He's just a really cool actor. And I like David, the butch gay of the bunch. I also like Shania, the quirky young girl with the personality and the glasses that no one can help but associate to Little Miss Sunshine. (Not a bad thing!) Completing my top three is Nana Sylvester, or whatever her name is, 'the last real American', the biggest Republican in the world.
The New Normal is a fun, cute show. And there must be something slightly addictive about it, since I just watched all the episodes in one afternoon. I've been mocking it for resembling Glee, but there has really been extremely little singing, and honestly, I wouldn't be fooling anyone if I said I didn't like the Glee parallels. Like I said before in this horribly meandering post, The New Normal is nothing new, though. Except for some idiots in Utah who banned it from the state television, and also for 38 idiots who signed a hilarious petition I found online, demanding NBC to stop airing the show. Christian society and innocent children, and all that, you know. Sometimes I forget how some people still find certain things so new and scary. Oh well! I'll be very happy to keep watching this same-old-same-old, and hopefully they'll even make another season! With the People's Choice Award fresh in their back-pockets, they just might. More Justin Bartha for me! (Please make National Treasure 3! Without Nicholas Cage.)
I am truly sorry if someone decided to read this post, hoping to actually learn something about the show mentioned in the title. Well, that's not how I roll, unfortunately.