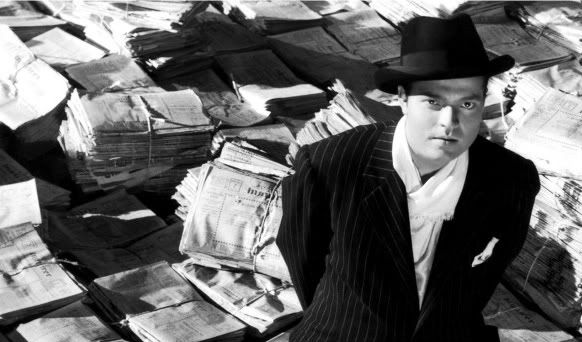 15:52
I decided to watch
Citizen Kane
. With
Space Odyssey
it helped to keep 'a watching diary', so let's see if it helps me here, too. I'm not mentally as well prepared as I was last time, but let's hope for the best. I did write a very hopeful title for the post: 'Citizen Kane and a leap back to success'. I'm referring to the last two months of total FAILS in my little
New Year resolution
project.
15:58
Decided to watch a trailer first to get a clue of what to expect. It was
a very fun trailer
, though it didn't give me much of a clue. So let's get started. I'm starving, but there's nothing edible in this house. Oh well. I'll see you in a half an hour, when I'm hopefully fully absorbed in the world of
Citizen Kane
.
16:03 Well, I checked my Facebook page first. Get on with it, woman...
16:06 My knees are cold. That's weird.
16:07 Rosebud. Okay, yes, I've heard about that. Luckily I don't remember what it's all about. I don't know if I can actually shut up for a half an hour, but I'll do my best.
16:39 Did it! Now I need to go hunt down some food. But really, I'm quite enjoying myself.
16:55 Unfortunately I need to have a break to go and pick up my mum. Will be back in business in about an hour.
20:16 ... Or three. My nephew came to a visit and I kept him company by the sandbox making boat-shaped cakes. On with the show.
21:10 Nephew still here. He came and asked me to come and run with him in the backyard, so I did, until I got tired (didn't take long). Despite the distraction, I'm finding the movie pretty interesting.
21:57 Well, wasn't that confusing. I guess I'm a bit dumb.
22:01 Oh, I wasn't, after all. Only a bit blind for not recognizing an object. You know.
Well, a wrap-up. This sounds really pathetic, but before today, my closest interaction with Orson Wells was that Zac Efron movie. I guess it was about time to change that. Once again I saw that the film was very well made, it had some fascinating ideas and a killer cast, but it was missing that something that makes me tick. Well, I'm just a silly young girl watching one of the 'greatest' films ever made, I wouldn't understand. Haha. But yeah. I did like the trailer. And even though I wasn't blown away by what I saw, I wasn't totally bored, either, and didn't start cutting my toenails or anything, so I knew what was happening in the story all the time. It's just not my kind of a film, I guess.
So, I'll strike the 'leap back to success', even though I don't consider this a FAIL. Instead I'll call this post 'Citizen Kane and a slight improvement'.

Oh and HA! Stayed on schedule after all. Today is only the last of July...