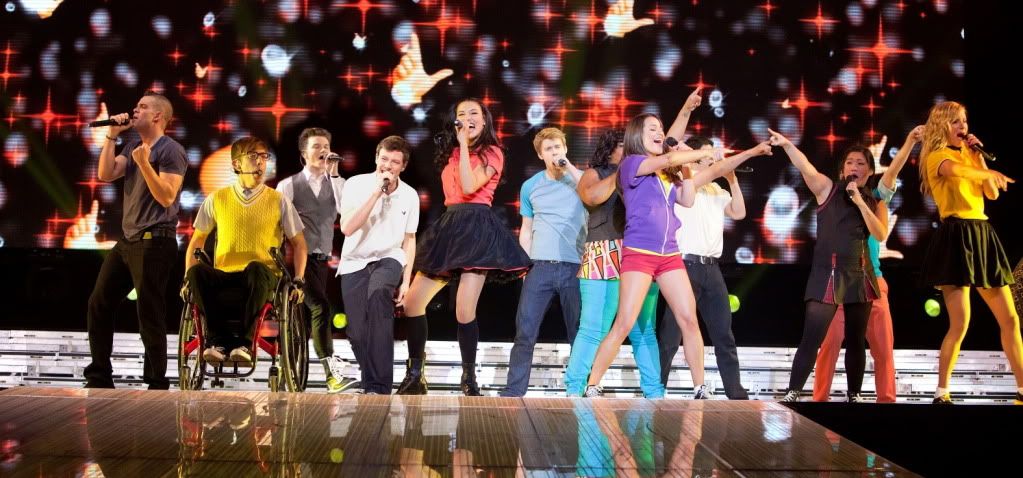 How freaking lucky it was that this movie happened to open less than a week after I arrived to the US? And as it only runs for two weeks, I easily could've missed it. But I didn't! It didn't play in my city, but we happened to make a little trip to Wichita, where it did play. (I expected film tickets to be cheaper here, but they really weren't; 13 dollars for a 3D showing, so not much difference to Finland's prices.)

Glee: The 3D Concert Movie is a sort of a documentary concentrating on the tour the cast of Glee did this spring and summer. We see most of the performances, get a glance of what happened on backstage and hear from the fans. More than once I almost began to sing along, or applaude after a number, because it was easy to forget that you were in a movie theatre, and not actually there, looking at the concert live. After it was over, I left the theatre humming Raise Your Glass and found myself smiling stupidly for the rest of the day.


All of the live performances were shown, except for Dog Days Are Over. Oh and Single Ladies! Nooo! It was the only thing I was left missing. Luckily I could go to YouTube right now and see several versions of it there. Yeah, I'm actually going, just a moment... Back now! Let's get on with it.
There were so many awesome things about seeing the live performances again. 1) Hearing Glee music is always awesome. 2) Hearing Glee music with a superb sound reproduction system is even more so. 3) In the concert you couldn't really concentrate on the little details happening on stage. Now you could see the little wrinkles around Lea Michele's eyes when she reaches for a high note in Firework, and Kevin McHale and Mark Salling goofing around during a group number. 4) Although the concert on screen wasn't the same one I saw, it took me back to that night in June and the memories were sweet. 5) YouTube videos are great, but a huge canvas and 3D glasses are even better. A huge, three-dimensional Heather Morris doing I'm A Slave 4 U made me quite happy. Hehe.
There wasn't enough behind-the-scenes material. Though I doubt nothing would be enough for me, as those people are just so lovable and adorable and funny and I could look at and listen to them for hours and hours and hours. The biggest surprise was that the blond Warbler with the cool haircut can actually talk! And other Warblers, as well! They were funny, too.
I also wanted so much more Chris. All he said was 'Thank you for loving me'. Though I think that pretty much sums it all up. That's all that wonderful man needs to say.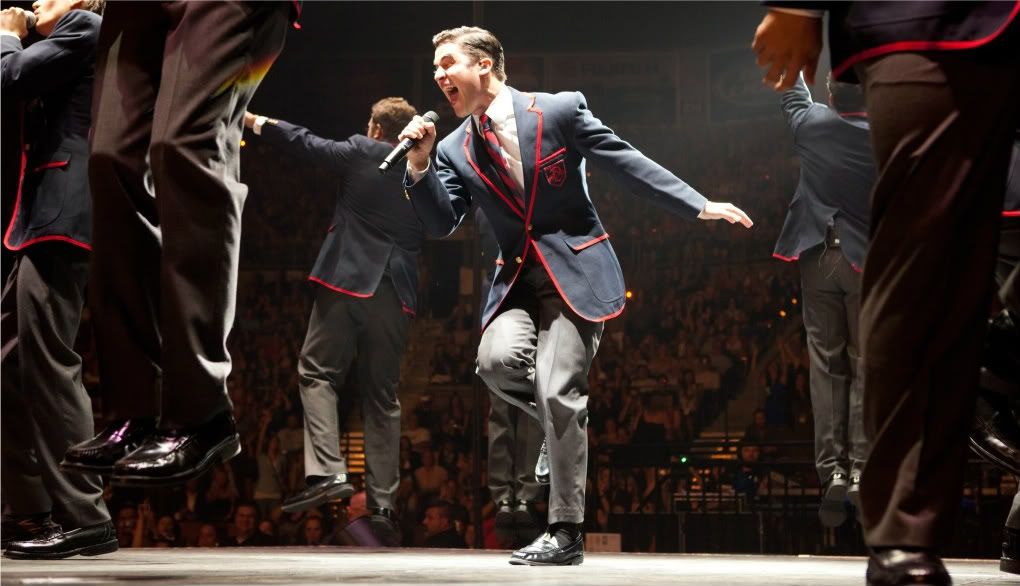 In between the numbers and behind-the-scenes materirial there various clips of fans declaring their love for Glee and naming their favourite characters and other things in the show. With some we looked a little deeper. Three young people described how Glee has affected their lives and improved them, or pretty much saved them. It was the good old American sentimentality, constructed in the familiar dramatized way, but still, I did find the stories quite inspirational and moving. This country is making even more of a wuss, haha.
Say what you want and call me what you wish, but I firmly stand behind my opinion that Glee is a real life-saver. Maybe it was mostly love for money that made this movie happen, but I think it's also love for something true and real and human. Glee rocks, period, and if any TV series was ever even to come close to saving the world, it would no doubt be Glee.